It's hard not to like Sunny Fong. The personality of the creative mind behind Canadian luxury womenswear brand VAWK is captivating and honest. On a particularly cold snowy January day, PULP sat down for a revealing chat with Sunny.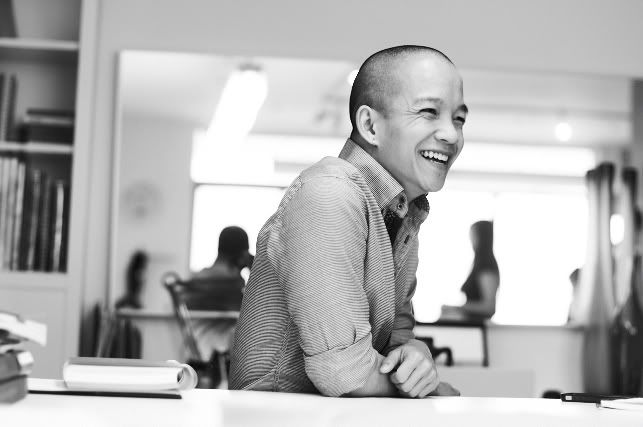 PULP: Tell us about your start in the fashion industry.
Sunny Fong: I started my line in 2004. I thought it was time to start - I had some money and I threw the first collection together. I had one buyer who supported me in terms of carrying it and selling and after a while it got the point where I couldn't support it financially anymore. That's when I decided to do Project Runway Canada  - hoping it would take me somewhere. I was a nobody when I came in and it was hard. 
PULP: How did you get on Project Runway Canada? 
SF: I applied for the first season but I didn't make it. 
PULP: How did you come up with the name for your brand - VAWK? 
SF: I didn't want to use my own name just because there were a lot of Sunny's among the Canadian designers (laughs). I didn't want the name to be attached to me. I was reading a book and I found the word "VAWK". It was "hard" enough - didn't want to use the soft name. It's one syllable but it works if we want to expand into other categories. 
PULP: Do you think the industry has changed since you have started? 
SF: I don't think it has changed very much. If anything there is more support, media coverage, people interested in fashion. in 2004, there weren't bloggers, other media outlets, it was really just the magazines and the people in the industry. Bloggers are making it more accessible. The thing that has not changed is that its hard for a new designer to break in. Just because the industry is not here - our main industry is not fashion like New York, Paris or even Asia where fashion builds the country. The outreach with the media outlets helps getting us in the public eye. We are all competing against each other essentially and it's all about marketing budget and if you don't have the marketing budget, you cant get to everybody. 
PULP: Do you have a Marketing/PR team?
SF: We do a lot of stuff in house right now. I tweet myself. We are doing what we can, definitely being on Project Runway Canada helped - breaking into the household. There is some recognition now, whereas when I started in 2004, there was no recognition. There was no online stuff that people could reference. Its easier to be more accessible and easier but getting to the consumer is still hard. The number of places that could carry VAWK is limited to Holts and The Room and maybe some boutiques but then the boutique will carry something that has a bigger marketing budget, the Gucci, the YSL and those brands are easier to sell. It's hard to tap into the luxury market. You're competing against companies with huge marketing budgets and if it's the same price point and your clothing is next to theirs, what makes you more valuable? You have to show the value of the product. They have the history behind them that makes them more legit. We show the value in the product. its not just a blazer, not just a dress. You have to make sure that we stand out on the rack as well as in the fashion industry in general. 
PULP: Tell us about dressing Elisha Cuthbert for 2012 People's Choice Awards  
SF: We have worked with Elisha before and we have maintained that relationship. She said she has an event and we went back and forth. Sometimes you are never sure if the celeb is going to wear the dress until the last second. She was very "I really want to wear it". She was not flakey at all and 100% invested from the beginning. She believes in our product. She felt good in the dress. I sent her the look book and she said she loved that dress. She thought it was original enough and wasn't going to blend in with the other dresses. 
PULP: Imran Ahmed from "The Business of Fashion" says to succeed in the fashion industry you have to spend 10 percent of your time designing and 90 percent making business-related decisions. Do you agree?
SF: I believe that. I spend most of the time producing these designs and getting a sale. Ultimately, if you don't make a sale, it is a useless collection. Right now we are at a good spot business-wise. I do spend most of my time running a business. Most of my morning is returning e-mails. Our goal this year is to be at a different level in terms of business. We need to open more doors. It's not all about glitz and glamour and I did that before: "I'm going to make dresses and do whatever I want and not care what the client thinks about it". In the end, those are the pieces I didn't sell. You have to know who your client is - those businesses are the ones who last. When you see designers like McQueen, it makes sense because London has that industry whereas for us in Canada we need to be a bit more realistic now. We look back at our designs from the past and it's different. I was being creative and I wanted to be the McQueen and Galliano of the time - but now I think who is going to wear this? Not everyone is Lady Gaga. 
PULP: Did you come to that realization after being on Project Runway?
SF: Yes, now I understand who my target market is and before it was all very vague. Doing the show and thinking that "this time I have to make it because there are only so many chances that you get" I had to make sure that I had the right customer in mind. "Am I going over the top?" There is a fine line between unwearable and wearable. We want to be safe enough that we are wearable but in the end we need "I want to wear that" mentality. If someone says "I love it but I cant really see myself wearing that" then what's the point? You have stand back and think how people are going to respond to the collection. 
PULP: Have you seen any fashion disasters on the streets?
SF: Yeah, those Lady Gaga look-a-likes. Its good to see creativity on the street but there is only one Gaga. They are not being original. 
PULP: What makes you want to design for women? 
SF: Because I like to wear dresses! I'm kidding (laughs). I think its easier to do womenswear in terms of being daring. With men, there is a fine line between making them look feminine - you can't just do something too extraordinary and men are more safe. Women are more extraordinary in terms of the proportions and certain parts of their body. With men, there has to be a formula for the design: there is a formal and casual and there is no middle ground. For womenswear, there is a huge spectrum, from day to middle to night, to even going to bed. Just because of that spectrum, that's the reason I design womenswear - you can do whatever you want and make it wearable. 
PULP: Do you think fashion should be available to the masses or should there be a veil of mystery? 
SF: Now everyone things they can be designers now - look at all the celebrities. In the end, I get it - it's all business and you have to have mass appeal. Look at Paris Hilton, she was hot 10 years, now it's the Kardashian sisters who are hot. It's about your product and personality having longevity because there is always new product and someone new so something you produce has to be consistent. 
PULP: You believe in model diversity - do you think you stand alone in this in Canada? 
SF: When I started designing, I was designing for my friends and they were not size 2. I understood the women's body with them because I had girls with large breasts or large hips and skinny waists. I designed prom dresses for them and I understood how the fit works with the female body. Designing for the model is so easy because the proportions are so small. We are still learning a women's body because they are all so different and even now, we think we have mastered it but there are little things we learn when we do the fittings. With every collection, we live and learn. 
Ever since I have started designing, I have always believed in the healthy body. I never believed in the stick thin girls. I have once done a show with the model agency where all the girls were a size 0 - they were all too small and my garments were for girls with tits and hips. You're not filling in the top and the bottom and the personality is lost. My client, she has breasts, hips and a waist, so we want a closer fit. I have noticed in Paris models are very thin. I find the girls in Italy are a little bit more curvy, they are the more supermodel type. For me, thats the woman I am designing for and that's the woman who is buying my garments. We like to show off the woman's body. 
PULP: Tell us about your new collection
SF: Last year we did a huge collection so this year we want to refine it a little bit and do more special pieces. We are trying to tap into diffusion and those not-too-special pieces will be put into the diffusion. We create key pieces that are fashionable slash classic and that will stay in your wardrobe for long and match with your other pieces. We don't want to be an essentials company, we just want to create special pieces that have value. 
For more information on VAWK please go HERE